Most of computer users in the 20th and 21st century must have known the name Internet Explorer (also called as IE). It used to be the icon of legend and irreplacable in the past. However, the game has changed and the future has a thing out of our expectation. Microsoft saw the market share of the browser sharply declines yearly. In this article, we'll learn the rise and downfall of Internet Explorer and find the reasons which cause the fall.
The rise of Internet Explorer
1995: Microsoft Internet Explorer (IE version 1.0) was born
Internet Explorer was introduced as a free download on August 16, 1995 by Microsoft.
The first version was known as Internet Explorer 1.0 and came out with Windows 95. The browser competed directly with Netscape Navigator which had already become the most popular browser just after its release in 1994. At this time, only 16 million of computer users worldwide have access to the internet and the browser was fairly new. At first, Internet Explorer couldn't catch up with Netscape which had a market share of 80%. However, Microsoft started to invest more in developing IE and spent more than $150 million annually on marketing. As a result, Internet Explorer began to gain customer's attention.
1995: Internet Explorer 2 competes with Netscape Navigator
Internet Explorer 2.0 is the key to compete against Netscape. After a few months, the next version of IE was introduced with a huge improvement which enabled it to catch with Netscape Navigator. Many early web pages were developed to be compatible with Navigator exclusively, which represented 90% of the market at the time. Therefore, Microsoft must find a way to imitate Netscape and gradually surpass this browser. IE 2.0 has been designed to incorporate Netscape's bookmarking system and support HTML features so that web pages look the same no matter what browser is opened. In addition, IE 2.0 is also the first version released by Microsoft for Mac OS, 6 months after its release for Windows.
1996: Internet Explorer 3 gains momentum
In 1997, Microsoft released IE3.0 and it quickly overtook Netscape. The main success of IE3 is the integration with Windows 95/NT4. IE 3.0 was included as a standard browser in these operating systems while other browsers were also available for download, at that time including Netscape Navigator and Opera. Unfortunately, many early web pages continue to be developed exclusively for Netscape Navigator.
1997: Internet Explorer 4.0 continued to improve the browsing experience
Internet Explorer 4.0 released in 1998, was designed to be compatible with Windows 98 which was then launched and it improved the browsing experience for users on slow dial-up connections. The IE4 compatibility mode also helped to prevent web developers from making a mess of their sites but instead create web pages which are both functional and visually appealing. Microsoft also launched a new product called MSN (Microsoft Network) to keep up with the trend of online services and compete with AOL.
1997: Internet Explorer 5.0 is incompatible with Mac OS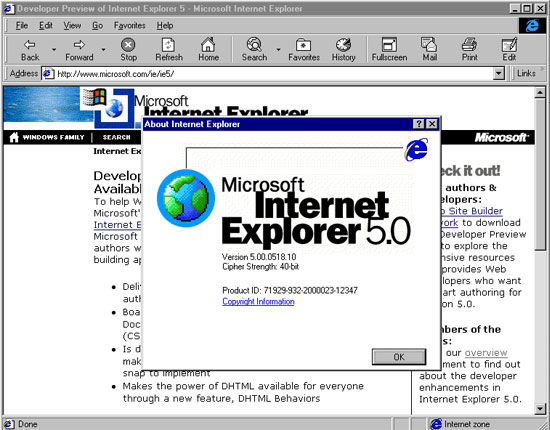 Internet Explorer 5 is released in August, 1997 as a part of Windows 98 only and IE5 did not support any other operating system. Therefore, Mac users are forced to continue using IE4 or switch to another browser such as Netscape Navigator 4.0. In addition, Microsoft has also challenged AOL by releasing a new service called MSN 2 which is aimed at high-speed internet connection (i.e broadband) with enhanced tools and features such as the ability to send and receive email with a personalised address, chat room and instant messaging.
1999: Microsoft leads the browser market share by offering IE for free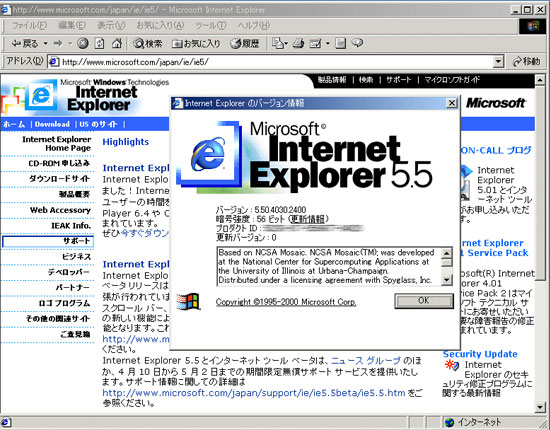 On August 11, 1999, Microsoft released IE 5.5 for Windows as a part of Internet Explorer 5. In addition to being able to browse the web more easily through better usability and improved features such as RSS, it's also the first browser to be released for free. By this time, Netscape Navigator becomes an outdated piece of technology and lost its market-share to IE, which becomes the best-selling web browser in history with a 54% share.
That was the story how the king IE grew up in the past. But there is no king could live forerver.
The downfall of Internet Explorer
2001: Internet Explorer 6 is considered the worst technology product of all time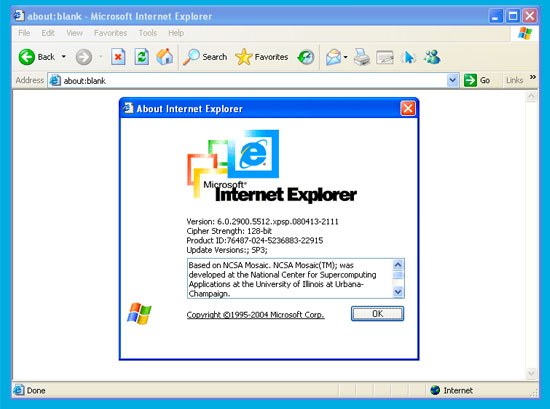 In May 2001, Microsoft introduced the current version of Internet Explorer 6 to the market. This version has been designed with more advanced security features and include a pop-up ad blocker which is later removed due to its controversial nature. However, IE 6 is remembered by many for a lot of security flaws, mostly by design. As a result, many web developers begin developing their sites for IE6 only while others switch to other browsers such as Firefox, Safari, Opera, and Flock.
By 2004, the US-CERT organization had issued a vulnerability report stating that IE's vulnerabilities combined with the browser's deep integration into Windows made it a burden and many security experts password convinces users not to use it.
In 2006, PC World ranked IE 6 as the worst technology product of all time, saying it "probably the most insecure software on earth." This is also the last version to be fully named "Microsoft Internet Explorer" because after the antitrust lawsuit, Microsoft renamed IE to Windows Internet Explorer.
2006-2008: Windows Internet Explorer 7 with the fiercest competitor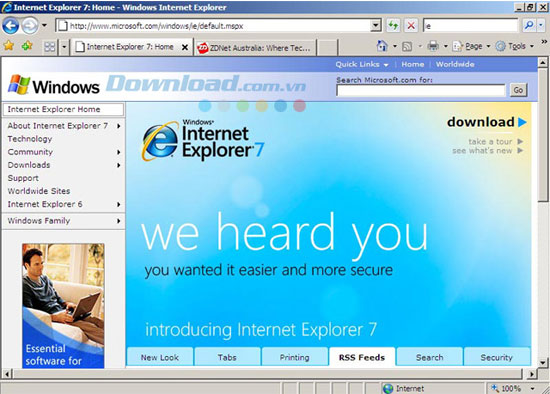 After more than 5 years since IE 6, Windows Internet Explorer 7 was released and is the default browser on Windows Vista to replace IE 6 on Windows XP. IE7 is the first version of IE to do away with the separate rendering engine for each version. Using Microsoft's own Trident instead, users are able to use a customized version in Windows XP as well as several other browsers on various platforms including Windows Vista and Mac OS X.
On the other hand, Chrome browser is first released in September, 2008 and the first stable version was released December 11, 2008. It's better performance features beats IE hands down. Chrome uses Google's V8 JavaScript engine, which is also used in their Google Chrome OS operating system.
Perhaps due to the long time between the two versions, IE 7 struggled to catch up with IE 6 in terms of market share and allowed Mozilla Firefox and Google Chrome to compete.
2009: Internet Explorer 8 shows many improvements but still not enough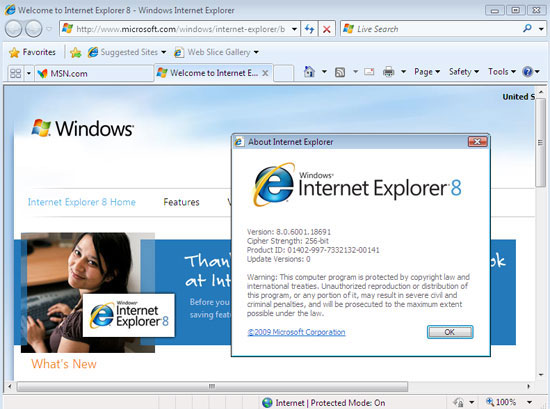 In 2009, Microsoft released IE 8 with better support for HTML5 and improved security features.
IE8 is considered a significant improvement over IE7, but it still failed to catch up with Chrome and Firefox due to the huge market share of its predecessors. While there are some improvements on user experience, most users still use IE6 on Windows
2011: Internet Explorer 9 with relevant enhancements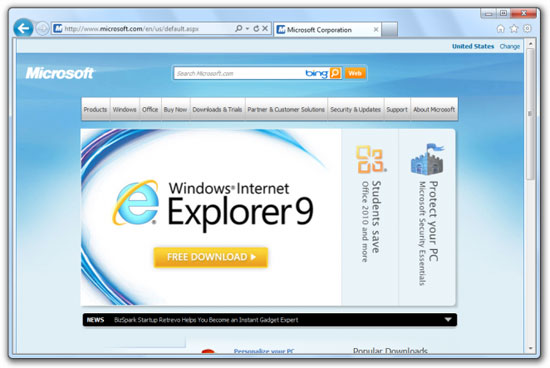 In 2011, IE9 was released to address the increased competition from Chrome and Firefox in terms of market share. IE9 is the first version built for Windows 7 and takes advantage of new features such as SPDY which allows browsers to request web pages faster. However, its support on older versions of Internet Explorer (IE 6/7) are limited.
The company released IE 9 separately without the operating system and launched a series of TV and Internet advertisements. Many users and experts then said that IE 9 is technologically comparable to Firefox and Chrome. Even so, IE 9 still failed to penetrate the market the way Microsoft had hoped. Chrome and Firefox has stepped foward so far, and IE 9 couldn't catch up.
2012: Internet Explorer 10 - the misstep with Windows 8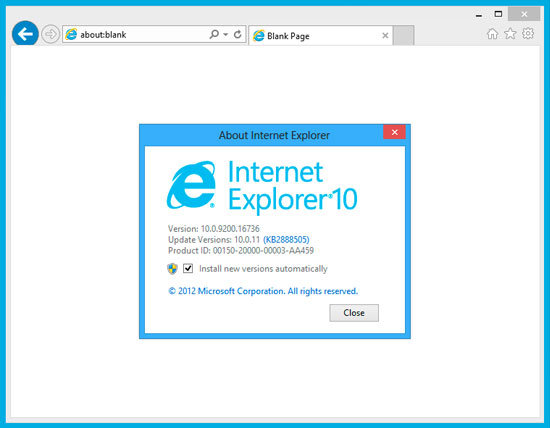 In 2012, IE10 was released to be the default browser of Windows 8. As expected, IE10 will be included in most Windows 8 devices (PC's and tablets) which are designed for better touch support among other features. Meanwhile, IE 10 was not supported on Windows 7.
Microsoft expected the combination could bring back their market share, and IE 10 was expected to replace IE 9 on Windows 7 at one point, but they were wrong. The fail of Windows 8 make more users stay far away from this browser. Users running Windows 7 still use IE 9 because they are satisfied with it and don't want to upgrade.
IE 10 has Adobe Flash Player integrated, but some Flash features are limited to the Metro version to avoid battery drain. Despite this, IE 10 is still neglected by users, partly due to the general discontent towards Windows 8.
2013: Internet Explorer 11 - the last version
After years of experimental versions, IE 11 was released in 2013 and is the last version of Internet Explorer. It has many bug fixes and security enhancements but nothing new to offer. Chrome and Firefox were already on a different level and users don't want to be bothered with an outdated browser.
At this point, there's almost no one still using IE 6/7/8. Most users have moved on to Chrome or Firefox for better user experience and improved security.
29 July 2015: The death has been confirmed
Microsoft Edge is the new default web browser in Windows 10, and was released on 29 July 2015. And this date has confirmed the death of Internet Explorer.
Microsoft Edge is the brand new design of Microsoft's default web browser for devices running on Windows 10. As such, it does not support any version of Internet Explorer prior to IE11. It is worth noting that this change will only come into effect later this year when Microsoft releases their next major update for Windows.
Reasons causing the downfall of Internet Explorer
Microsoft was too slow to respond to the changes of the technology environment.
The render engine of IE8 and IE9 is based on Trident which was first used in Internet Explorer 5.5, released 12 years ago. It turned out that the rendering engine of older browsers like IE8 were so outdated that they didn't even support Flexbox which has become a standard for modern websites after 2010. This meant web designers had to use workarounds for IE8 which had negative effects on web performance.
IE 6/7/8 were also not designed for touch screens, while their competitors focused on better user experience with the growing number of users using mobile devices.
Microsoft was too slow to respond to competition
Microsoft was very slow to respond to the threat from other browsers in the market. It took them over five years (2006-2011) after Chrome release to finally catch up with better HTML5 and improved security features. Even when they did, it was already too late because Chrome is already a superior product on many aspects (Google search engine, pre-installed by many devices, etc)
Microsoft mistepped with IE Updates and Microsoft Windows
For many years, the company has been less willing to push updates and changes after IE 6 was released. The release of IE10 as part of Windows 8 also failed because it wasn't supported on Windows 7 at the time, while Chrome and Firefox had a much larger user base for their last versions even when they were not included in any operating system.
Does Microsoft have a chance to get back the browser market share?
Yes, Microsoft always have a chance to get back the market share as long as Windows still lives.
Microsoft's Windows is the most widely used computer (desktop, tablet and console) operating system (OS) in the world with around 70 percent of the market share during the first half of 2021. Therefore, Microsoft still have enough time to attract its users to Microsoft Edge.
However, Microsoft needs to spend a huge effort in order to change their strategy and market presence for a better user experience. For many years, Microsoft has only focused on chasing Google Chrome and Mozilla Firefox but forgotten about users - the core and most important factor. Microsoft needs to listen to its users for what they want and what they do not want with the browser, as Google or Apple always does.
They also need to build apps for other platforms (Android, iOS) if they want to compete with Google's dominance in the mobile OS market.
Sumarry
In the past, Internet Explorer was a dominant browser in the world. But as time has passed and competition increased, they have fallen to third place behind Google Chrome and Firefox. The reasons for this are Microsoft's slow response to change in technology environment, IE6/7/8 being outdated with user experience not keeping up with modern standards of web development (flexbox), lack of support for Windows 7 or newer versions when releasing IE10 which is included on Windows 8 OS; also their late response to major security threats from other competitors like Google Chrome. However, there is still hope that Microsoft can get back its share of the market if it pays attention to what users want - feedback about features people care about most or where they feel frustrated by browsers today and not focusing solely on Chrome/Firefox.