What is SWOT Analysis in Marketing?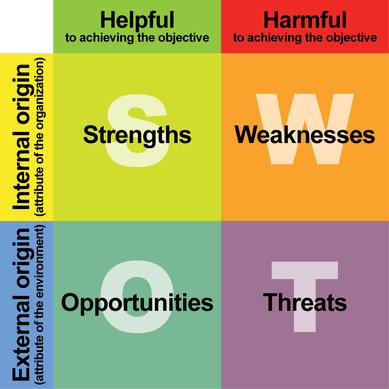 A SWOT Analysis is a strategic tool that helps you understand your business from four different perspectives. It can provide insights about what you do well, where the opportunities are in the market, and how to identify any weaknesses or threats. SWOT analysis is an important step for every entrepreneur because it allows them to evaluate their strengths and weaknesses so they can work on improving them.
Why SWOT Analysis is popular in Marketing?
SWOT is extremely essential in Marketing. SWOT analyses are useful for determining the strengths, weaknesses, opportunities, and threats that face a business in its market. SWOT is not a complicated process and SWOT analyses can be completed by anyone with a basic understanding of SWOT.
It's important for managers to understand SWOT because they need to know how to steer their company towards the opportunities and away from the threats. SWOT was developed over a century ago and SWOT Analysis has been taught at business schools since the 1950s.
How Do You Conduct SWOT Analysis in Marketing?
SWOT analysis can be conducted by using an SWOT matrix. The SWOT matrix has the axes headings of strengths, weaknesses, opportunities, and threats.
Strengths such as:

Strong finance
Modern technology
Good management
Well-trained employees
Good products or services
Well-built brand

Weaknesses such as:

Weak finance
Outdated technology
Bad management
Low-performance employees
Bad products or services
Bad reputation

Opportunities such as:

Increasing demands
Growing technology world
Government support
Changing in culture and lifestyles

Threats such as:

Increasing competition
Natural disasters
Increasing pollution
Unstable poticial environment
Economic crisis...
Strengths and Weaknesses are internal factors, while Opportunities and Threats are external factors.
Example: Nike SWOT Analysis
Nike is one of the most popular brands in the world, and they were founded in 1964. They are based in Beaverton, Oregon. Nike provides footwear, apparel, equipment, and accessories for both athletic and non-athletic activities. Nike has a strong presence in North America and Asia. Nike SWOT analysis shows that they have strengths in product development and marketing. They have weaknesses in supply chain and they face threats from competitors like Adidas.
Nike's strengths:
They are a well known brand with products that many people love, which gives them an advantage over other brands because it makes their customers more likely to purchase Nike as opposed to another company's product
Nike is a strong company with the ability to easily create new and innovate products.

Nike has released a lot of shoes and clothing lines over the past few weeks. Nike has recently released the Air Max 97/1, Nike Air Max 270 and also the Nike React Element 87.

They have an advantageous position in North America, which makes their customers more likely than ever before to purchase.
Nike's weaknesses:
Supply chain is a weakness because they are not able to keep up with the demand for their products.
Nike has limited presence in Asia, which is an area where Adidas has a strong focus and could be more profitable.
Nike's Opportunities:
There's potential for Nike to expand into other areas like golf, because they are already successful in their current markets
There is a lot of potential for product development and diversification which could allow them to pick up more customers.
Nike's Threats:
Adidas has been increasing its presence in Asia and SWOT analysis shows that Nike does not have a strong presence in this area
Threat of new competitors entering their market which could leave them with less customers and lower profits.
Conclusion
There are plenty of SWOT Analysis tools that you can use to learn more about SWOT analysis and SWOT Matrix. SWOT Analysis is an excellent tool for managers because it gives them a better understanding of their company and the market in which they work. In this article, I provided examples of SWOT analysis for Nike and how SWOT analysis can be done with SWOT matrix.